Why book on our website?
Exclusive discount
More types of rooms to book
Book the Alma Restaurant (half or full board)
10% discount on massages booked before arrival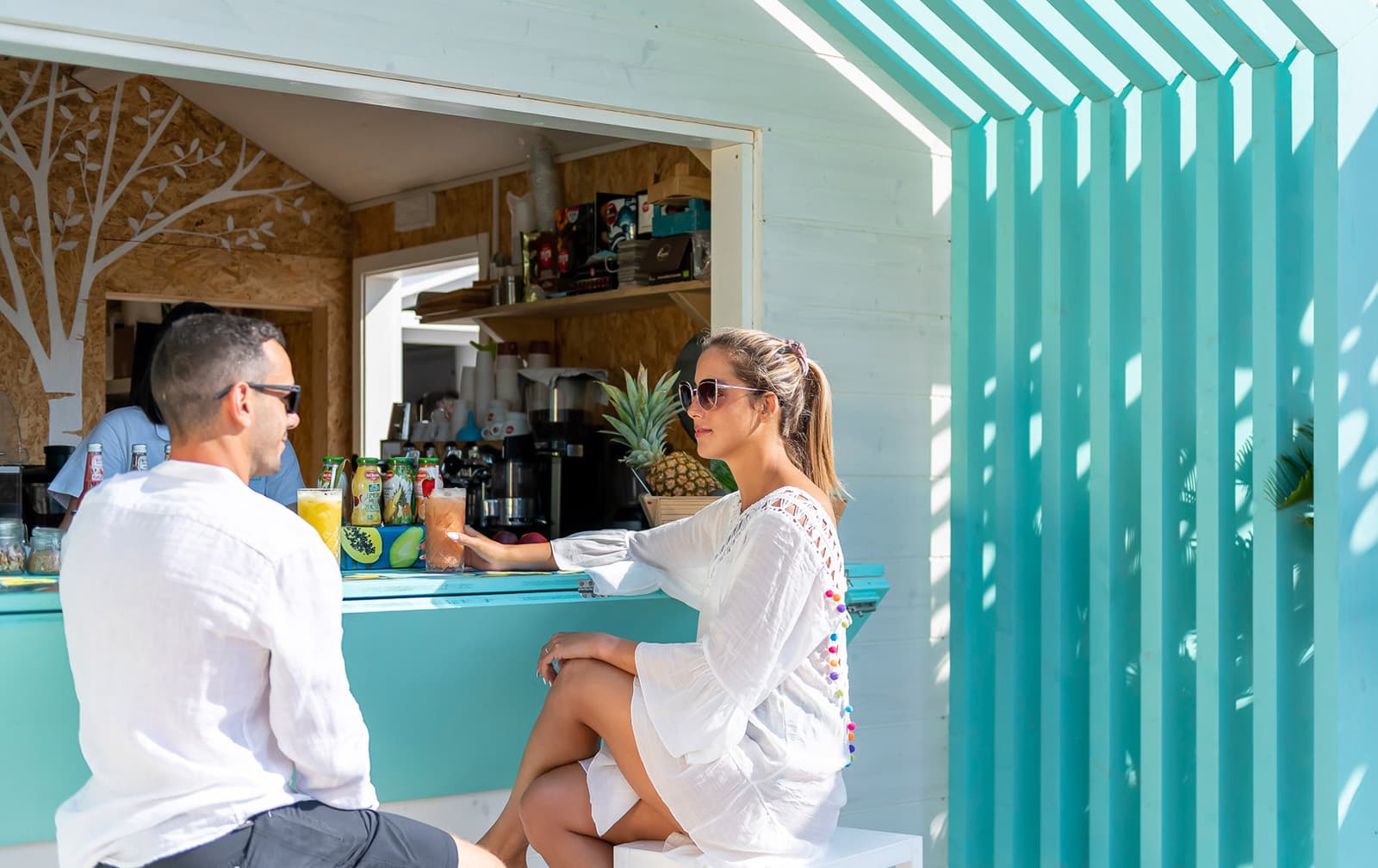 Lounge Moments
Moments of happiness _
Every day is like a dream come true
We love seeing happiness in the eyes of our guests, and we want your every moment at Blu to be unique. The usual breakfast becomes an exclusive rendezvous; your favourite drink takes on a new flavour on a swing overlooking the sea, a simple dinner transforms into an enchanting experience just a few steps from the shoreline...
The Insolito Café _
Much more than a beach bar
The Insolito Café welcomes you to the threshold of the Blu Beach for long, flavourful days with your feet in the sand or on the grass. Your holiday will resound with endless laughter, memories of delicious breakfasts, Romagna piadinas accompanied by Spritz or fruity cocktails in the shade of palm trees. And when the horizon changes colour, an aperitif on the beach is perfect, and dinner by the sea is more romantic than any other.
Sky Bar _
The terrace suspended over the sea
For a moment all to yourself, a step away from the sky, take refuge in the Sky Bar, an elegant lounge overlooking the sea. A space dedicated to relaxing in complete freedom: finish your book lying on soft cushions, celebrate a special occasion, enjoy an aperitif with music in the background illuminated by the stars. The Sky Bar hosts exclusive private events and business meetings that leave their mark.
Blu Bakery _
Sweet moments by the sea
Discover a mouth-watering world: the Blu Bakery is our special treat for you, cosy as a hug with a view of the sea, at any time of day. Spoil yourself with a breakfast of warm brioches, pastries and cappuccinos dusted with cocoa. Indulge in a tasty snack with a slice of homemade cake. Enjoy the sunset with an aperitif by the pool, sipping a drink prepared by our expert hands. The Blu Bakery is also open to outside guests and is the ideal location for intimate private events facing the sea.
Your memories at Blu
The long-awaited and hoped-for arrival of an UNUSUAL and UNIQUE gathering on the beach of Igea Marina has fulfilled all expectations. An oasis of light-heartedness and relaxation where you can savour the culinary delights that are offered to you
claudiagU575FF
, TripAdvisor
Contacts
Viale Alfonso Pinzon, 290 - Bellaria - Igea Marina
VAT 04535120408
+39 0541 332 454
Newsletter
Stay up to date with all the latest news from the Blu Suite Resort, Beach & Spa. Sign up for our newsletter to find out what's going on and receive special deals just for you.
Subscribe to newsletter