Why book directly on our website?
Free fenced parking space
Special Best Rate Discount Guaranteed
Suites And Other Exclusive Rooms You Won't Find On The Portals
Offers With Catering Included That You Won't Find On Portals
10% Discount On Massages If Before Arrival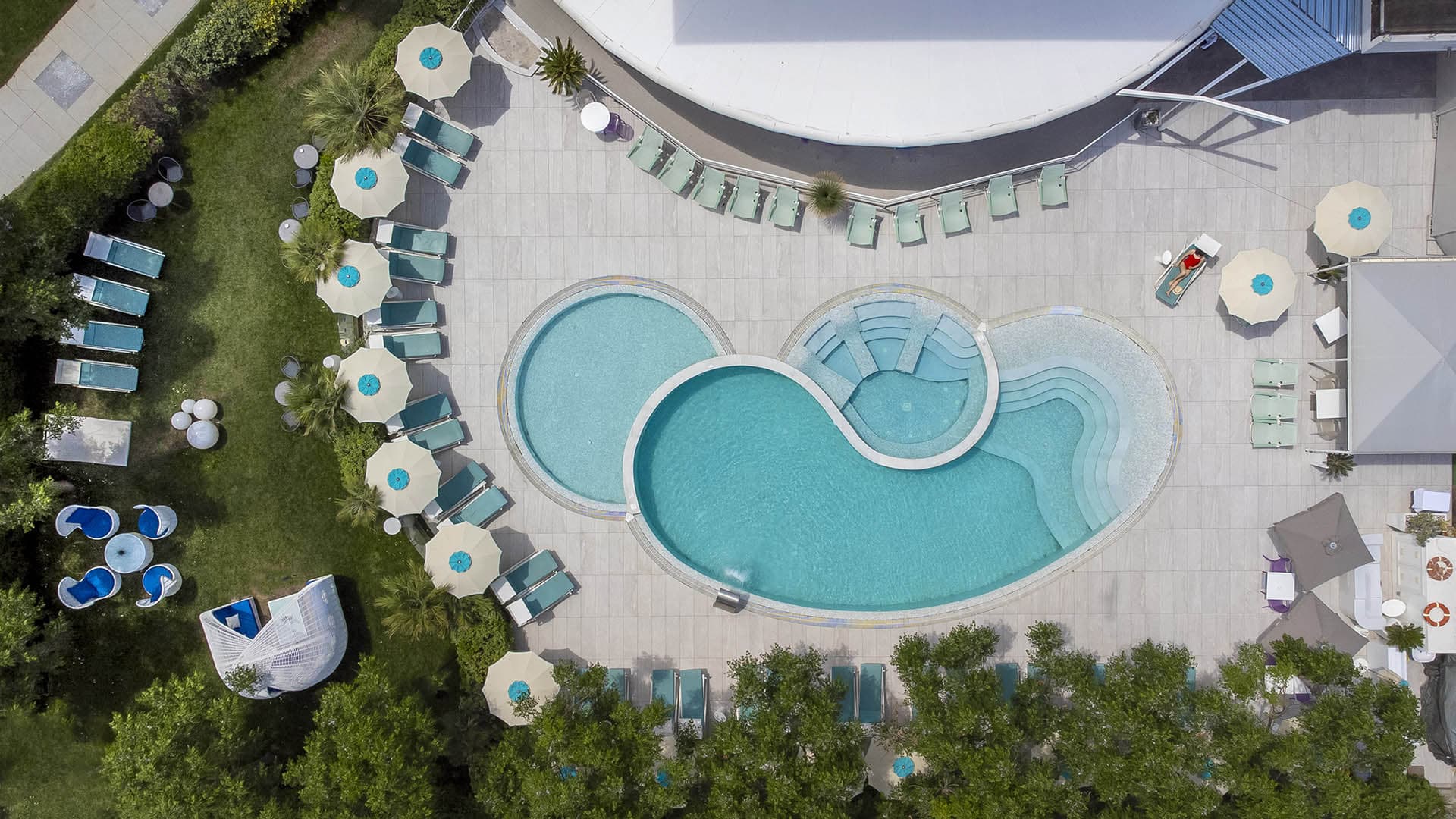 RESORT, BEACH & SPA
We accompany you along the path to the experience you have always dreamed of, wherever your dreams take you.
We don't like definitions or limits. We welcome anyone who dreams of a special holiday with open arms. But one thing is certain: Blu Suite is a unique ecosystem, and our guests almost forget they are on the Romagna Riviera because here you can find your very own definition of relaxation. Whether you are travelling as a family, with your significant other or staying with us on a business trip.
Discover the Blu way of thinking
Child Friendly
Barrier-free
Eco-friendly
Pet Friendly
Recharging Stations
Friendly Attitude
Our commitment to a happy world, open to everyone.
Blu Beach Club _
We are as "Blu" as the water, the hallmark of our resort on the Romagna Riviera. Whether you love the beach or the pool doesn't matter: we have both.
Swimming pool
A swimming pool that overlooks the sea, to enjoy a dip in the early morning sun. Two dedicated pools for adults and children.
Beach
Blu Beach is much more than a private beach: it's a happy island designed for relaxation, fun and sport in total freedom, from sunrise to sunset.
Welcome to the Beach Club
Wellness & Spa _
Abandon yourself to the relaxation of the Blu Spa wellness programme, in a 500 m² space entirely dedicated to your well-being. Let yourself be intoxicated by scented candles and essential oils. Rejuvenated by the ancient Ayurvedic science, skilled hands will guide you on a journey of balance and emotion.
Enjoy your relaxation session
The Blu Restaurant _
Attention to detail, research into raw ingredients, a sophisticated atmosphere with a view of the sea, a modern interpretation of great Italian cuisine and the tradition of Romagna. Exclusive rooms decorated with velvet and embellished with soft lighting...In two words: the Blu Restaurant.
Sample our cuisine
Rooms & Suites _
Light, space and silence lead you through grand windows allowing you to enjoy every moment of your holiday on the Riviera. Experience airy rooms and suites.
#FELICIABLU
Family Time _
Blu Suite Resort, Beach & Spa caters for the whole family, with tailor-made experiences for everyone.
We guarantee you the time and peace and quiet you deserve on holiday, while the little ones get plenty of baby services and fun outdoor activities. Every day at Blu is special, for everyone.
The family soul of Blu
Blu Resort _
Happiness in stages
Deals _
Irresistible deals for your holiday in Bellaria Igea Marina.
All offers
Social Wall
#blusuitehotel
#blubeachclub
#felicialblu
If you're looking for a hotel
If you're looking for a hotel where you want to feel at home and get away from it all, you absolutely have to visit Blu. It's important to find a hotel that provides everything you need for the children, but at the same time, allows you to relax
Andrea F
Contacts
Viale Alfonso Pinzon, 290 - Bellaria - Igea Marina
VAT 04535120408
+39 0541 332 454
Newsletter
Stay up to date with all the latest news from the Blu Suite Resort, Beach & Spa. Sign up for our newsletter to find out what's going on and receive special deals just for you.
Subscribe to newsletter